by Jeremy on May 14th, 2022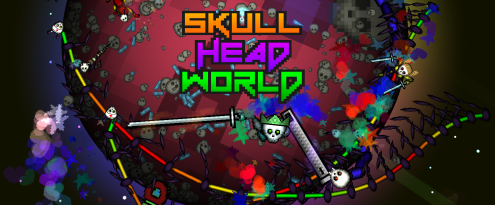 Skull Head World is now available on Google Play!
Check it out! It runs great on Android!
https://play.google.com/store/apps/details?id=com.negspect.skullheadworld
You can also join the discord conversation.
by Jeremy on August 7th, 2020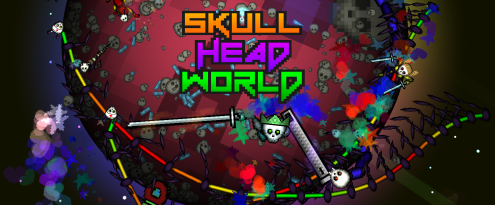 Skull Head World is now available on Steam!
Skull Head World is the game I have been working on for the last few years, and it's finally available! It features procedural animation, realtime synthesized audio, music that is generated based on gameplay, hardcore topdown bullet hell melee brawler action and lots and lots of skulls.
https://store.steampowered.com/app/1191690/Skull_Head_World/
by Jeremy on May 14th, 2020
Atlantis has been updated to version 0.9s.
The new version has some bugfixes. Most importantly regarding lockups when receiving the same midi note multiple times without noteoff.
The fancy old key tracking module was removed with an axe and very simple and efficient method was put in it's place.
Click here to download Atlantis, get presets, skins, read the manual, all that stuff
by Jeremy on January 22nd, 2019
Atlantis 0.9r is finally out. And it's finally 64 bit. Thanks to Hani, Ken, Fletcher, Simon, James and Jason for finding so many bugs for me to fix…
Atlantis 0.9r 32 bit
Atlantis 0.9r 64 bit
you may need to re-select your skin after the upgrade.
by Jeremy on December 10th, 2018
Surprise! 2018 is almost over and Atlantis 0.9q has been released to the public!
This version fixes some bugs with combiners and lfo 2, mostly regarding midi CC control.
Hani at United Deviations Music found the ancient bugs, and helped me test the fixes. PSA is a nice song he made with Atlantis.
by Jeremy on October 18th, 2011
Wow, I sure was wrong in my last post.
It's cold outside now, and no snow yet… So, I have no excuses. Here's a little tool that I cooked up to share with old-school fast tracker 2 heads that play with beatmaker 2.
xi2bmk2 will rip through your dusty old .xi instrument collection, and convert it to a shiny new .bmk2 and .wav collection.
Some notes:
xi2bmk2 will operate recursively on an input directory that you specify. The first folders that it encounters will become the category names in the .bmk2 file.
You can use the .wavs for whatever you like, but the tuning information, key maps, and loop points are all stored in the .bmk2 xml.
Since fast tracker's envelopes were so radical, they are not converted to the standard ADSR that beatmaker 2 uses.
Stereo pair instruments (identified by two files, *L.xi and *R.xi, in the same folder, with matching keymaps and samples) will be magically welded back together into a single stereo instrument.
You can download it here.
Enjoy!
by admin on June 30th, 2008
It looks like I missed something in the Atlantis 0.9g release. The pan shaper was not included. So- here it is.
I got a tablet laptop recently, and I have to say, Atlantis is a treat with a stylus. And it even works in Vista. Goodbye mouse!
You can download Atlantis 0.9j here and read the manual at http://jeremyevers.com/atlantis
by admin on June 24th, 2008
I have a signifigant Atlantis audio quality update for you today.
Hani didn't like the clicking sound the routing engine was making in filters-per-voice mode. So, I fixed it. Now filters in filters-per-voice mode are always running, just like the global filter. You may notice a slightly different decay sound- this is the filter running. Before it would stop running when the envelope decayed, and any resonance would be cut (click) and continue on the next note (click).
This will consume more CPU power in polyphonic mode, so be sure to turn the number of voices down to the lowest useable level that you can get away with, or disable filters-per-voice mode entirely. You can adjust these settings in the config dialog.
I also optimized the monophonic and arpeggio modes, so they will recieve a performance upgrade in this release.
You can download Atlantis 0.9i here and read the manual at http://jeremyevers.com/atlantis
by admin on June 21st, 2008
I've got a little Atlantis update for you. This version allows you to use MIDI learn to assign bend and velocity modulators. Now it's even easier to go crazy.
Enjoy!
I've also updated the Atlantis Manual pdf.
You can download Atlantis 0.9h here and read the manual at http://jeremyevers.com/atlantis
by admin on June 1st, 2008
Guess what? I've got a new build of Atlantis. It's got some new features, and maybe even some new bugs for you guys to find.
Here's a list of what's new:
Repeatverb and Destroyverb shapers
Pan shaper
Browse button for Data Folder in config dialog
Fixes for waveform save bugs in some hosts (Cubase 3.1.1, Phrazor)
Manual updates
The Repeatverb and Destroyverb are nasty little reverberation algorithms that are based on something I wrote for Jim Redfern to use in one of those demo competitions where you make your program crazy small. Use them to add some wet depth and weirdness.
They do use a fair amount of CPU, so I suggest turning Filters-Per-Voice mode off in Atlantis if you are using it with the synthesizer. I also suggest sticking a lowpass filter behind them.
The Pan module is something that Yann suggested and is everything you would expect from a serious panning algorithm. It uses a sine-law, if you care.
Thanks to Rajko and Hani for reporting and testing the waveform save bugs.
You can download Atlantis 0.9g here and read the manual at http://jeremyevers.com/atlantis
Next Page »