by Jeremy on October 23rd, 2011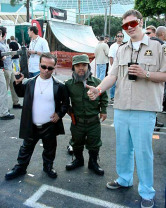 It was brought to my attention that the music page was more than 3 years old. So, I moved it.
I made a new music page that links to some of the sounds I have been making lately. I've got a bunch of bad ideas that need to be shared…
Booby Trap has a show on the Friday, October 28 at the Princeton Pub in Vancouver. We're going to play a bunch of songs from Rocky Horror. It's gonna be silly.
Leave a reply