by Jeremy on October 23rd, 2011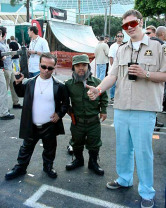 Updated on June 1st, 2008
Recordings
My Bands
2008 – Electrospazz
2008 – Calopter – Oblivion
2008 – Big Brother – Sunday is My Birthday
Everyone has been waiting on this one for years. I am dying to let you hear it. It is fucking amazing. Like nothing before.
Here's the video for Tokyo Convertable.
2007 – Nasrad and Flex – Last Train to Boobieland
I played bass in their sometimes backup band, The Runs. I also recorded most of the new album, Last train to Boobieland. Go buy it on the internet.
2007 – Umm
Dave Innes and myself make music sometimes. One day I will put some on the internet.
2005 – The Evil Engine
I play bass for them, and have been recorded on several tracks.
2004 - Canada
Canada rocks. Tyler McIntyre: vocals, guitar – David Buist: bass guitar – Ace Piva: drums – Jeremy Evers: keyboards – Chris Gallimore: guitar – James Long: lead guitar
01 02 03 04 05 06 07 08 09
The Cobras
2003 – Giganus – Night Movements
2003 – Negspect – Outlaw
2002 – Cartoon Me
2002 – Negspect – Mapinguari
2002 – Negspect – Medical Resonance Therapy Music for Irritable Bowel Syndrome
2001 -Negspect vs Vinguaguez – Hurry Orenbu Acquire the Token
This is the special 5 year anniversary mix of the classic epic that we all love to blast at the parties as the ladies burst the outrageous manouvres. Now over a decade since it all begun, but powerful as ever. Peter Adeney is the other mad genius on this incredible composition.
01 cover
2001 -Negspect – Twenty-Four
1998 – Big Brother – The Blank Years
1998 – International Business Musicians – Midway
1996 – Big Brother – Catch The Fever
Finally the ultra-rare cassette beginings of the kings of retard rock have made it to the digital world.
1995 – Negspect – Songs to Wash Dishes By, volumes 1 and 2
1995 – Gary's Device – Ettiquette Matters
1994 – Negspect – Moo
1994 – Various – The Ongoing History of Heehawism
1993 – Negspect – Crotch Grinder
Recording / Mixing / etc
2005 – The Lovebolt - Demo
2005 – Sons of Otis – Live in Toronto
2004 -Brant Bjork and the Bros – Live at the Underground
2004 -The Fifties – EP
2003 – Bel Riose – Bel Riose
2003 – I am Dying to Tell You I am Dying – Demo
2002 – the Huge Trucks – the Rock Album
2000 – Marvin K. Mooney – Unreleased
1998 – Bruised – And Justice for Al…
1997 – Arcade (Wax Mannequin) – T.V. Fun Game
1997 – Janitors Of Anarchy – Janitors of Anarchy
Mastering
2006 – Drifter
2003 – Spoiled Rotten- Guitarded
2002 – Various – The Ambitious CD
2002 – Inside – Crazy, Wiser, Open, Answers
2001 – Various – The Amalgamation Compilation
2001 – The Tighties – Load "*",8,1
2000 – Various – Drowned in the Harbour
Leave a reply