by Jeremy on November 25th, 2021
here is a little animation for you: you shouldn't look at me. enjoy your day!
by Jeremy on August 7th, 2020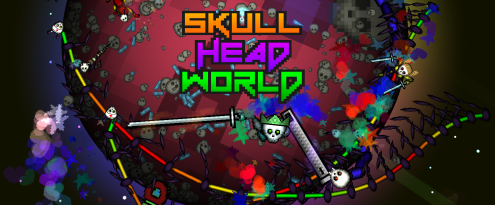 Skull Head World is now available on Steam!
Skull Head World is the game I have been working on for the last few years, and it's finally available! It features procedural animation, realtime synthesized audio, music that is generated based on gameplay, hardcore topdown bullet hell melee brawler action and lots and lots of skulls.
https://store.steampowered.com/app/1191690/Skull_Head_World/
by Jeremy on May 14th, 2020
Atlantis has been updated to version 0.9s.
The new version has some bugfixes. Most importantly regarding lockups when receiving the same midi note multiple times without noteoff.
The fancy old key tracking module was removed with an axe and very simple and efficient method was put in it's place.
Click here to download Atlantis, get presets, skins, read the manual, all that stuff
by Jeremy on January 22nd, 2019
Atlantis 0.9r is finally out. And it's finally 64 bit. Thanks to Hani, Ken, Fletcher, Simon, James and Jason for finding so many bugs for me to fix…
Atlantis 0.9r 32 bit
Atlantis 0.9r 64 bit
you may need to re-select your skin after the upgrade.
by Jeremy on December 10th, 2018
Surprise! 2018 is almost over and Atlantis 0.9q has been released to the public!
This version fixes some bugs with combiners and lfo 2, mostly regarding midi CC control.
Hani at United Deviations Music found the ancient bugs, and helped me test the fixes. PSA is a nice song he made with Atlantis.
by Jeremy on December 5th, 2018
ok, so i am exceptionally bad at keeping this site up to date. but i have some news… skullheadworld is nearing completion (although it's site is also exceptionally out of date…).
skullheadworld has a secret feature, all of the audio is improvised and synthesized realtime in my new skullhead synth. the synth itself has been ported to vst. it's a 48 channel single-oscilator synth designed for speed. it is nowhere near as deep as atlantis, but it can still make some neat sounds…
by Jeremy on November 18th, 2011
the wiring is almost done. holy shit mode is loud.
jeremy evers and the bad ideas – no clipper and led by jeremy.evers
by Jeremy on November 16th, 2011
if you ever do this, i suggest several colours of wire.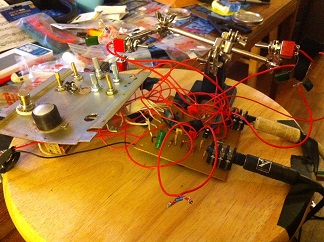 i'll tell you how it works later. here's a sloppy sample of what it sounds like today:

jeremy evers and the bad ideas – muff happiness by jeremy.evers
by Jeremy on October 23rd, 2011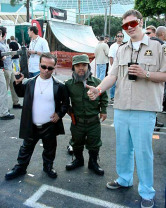 It was brought to my attention that the music page was more than 3 years old. So, I moved it.
I made a new music page that links to some of the sounds I have been making lately. I've got a bunch of bad ideas that need to be shared…
Booby Trap has a show on the Friday, October 28 at the Princeton Pub in Vancouver. We're going to play a bunch of songs from Rocky Horror. It's gonna be silly.
by Jeremy on October 18th, 2011
Wow, I sure was wrong in my last post.
It's cold outside now, and no snow yet… So, I have no excuses. Here's a little tool that I cooked up to share with old-school fast tracker 2 heads that play with beatmaker 2.
xi2bmk2 will rip through your dusty old .xi instrument collection, and convert it to a shiny new .bmk2 and .wav collection.
Some notes:
xi2bmk2 will operate recursively on an input directory that you specify. The first folders that it encounters will become the category names in the .bmk2 file.
You can use the .wavs for whatever you like, but the tuning information, key maps, and loop points are all stored in the .bmk2 xml.
Since fast tracker's envelopes were so radical, they are not converted to the standard ADSR that beatmaker 2 uses.
Stereo pair instruments (identified by two files, *L.xi and *R.xi, in the same folder, with matching keymaps and samples) will be magically welded back together into a single stereo instrument.
You can download it here.
Enjoy!
Next Page »