by admin on April 19th, 2007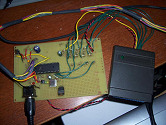 My friends James and Jason Long are mad hardware hackers, in addition to being amazing musicians, twin brothers and great testers and critics of Atlantis.
Jason's made some insane hardware over the years, including his own sampler, filters, and a talkbox for James. One of his latest projects was to pull the SID chip out a commodore 64 and make a MIDI interface to it.
James has a slightly more software approach- he built a MIDI interface for the c64, wrote drivers for it, and racked it.
You can read about some of their creations at: http://sidchip.kicks-ass.net
The SID chip does kicks ass.
Leave a reply