by Jeremy on April 15th, 2007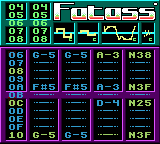 Many years ago I made a Fast Tracker II clone for the Gameboy Color called Fatass. It was coded in pure z80 assembly, and was used to create music for several videogames.
I originally imagined myself writing entire albums with this thing on my travels.
Download it here: Fatass
Download the z80 source code here: Fatass z80 source code
You will need a gameboy color or gameboy advance emulator, or a flash system to use this.
Press select to get to the menu, from there you can access help, the file system, etc. Load some example tunes from rom to see what it can do. There's even a version of a Big Brother song in there…
11 Responses to ' Fatass '



the tracker looks amazing. i've been trying to load it onto a bleep bloop non usb cartridge with the usb transferer. every time i try to load it onto the cartridge it says: >Bad file size.

any ideas why? i would love to use this. thanks!




i've not tried to load it to that kind of cartridge before. I always used the nintendo flash carts or the now impossible to find lik sang variety. USB was pretty exotic back then. I don't have any gb dev hardware any more, maybe the guys at chipmusic.org can help?




The emulator I'm using displays the block list incorrectly ( screenshot http://i.imgur.com/VwBEq.png ). I want to know if this displays correctly on a real gameboy colour, so I can file a bug with the emulator.




I have changed the background colour, and now it displays correctly. This seems to only happen if Fatass formats the SRAM when it's started up.




Changing the background colour doesn't seem to fix it after all.




@baseck: probably due to bad header data (rom size) – use rgbfix or any other header tool to fix it and try again.




Nice




[...] http://jeremyevers.com/fatass/ Check it! [...]




No luck on a Mac with the KiGB emulator. I'll try it on something else…




just checking it out, really cool – is there a way to set pattern length?




Hello Jeremy!

I have been using your tracker for a long time! It is my favorite tracker

Are you thinking about updating it any day?

Best regards

/ Mattias
Leave a reply