by admin on April 18th, 2007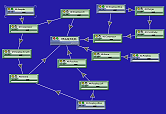 Before there was Atlantis, there was the FM lab.
I did some work on Psycle a few years back, under the humble handle 'pooplog'. I made some unique machines to inspire myself and others to play with it. It is still rolling and is still a great modular tracker.
Psycle is fun to play with, sounds amazing, and has lots of great native synths and effects, plus VST and ASIO support.
Check it out: http://psycle.pastnotecut.org
Or grab the source: http://sourceforge.net/projects/psycle
Leave a reply